At the beginning of each year, the World Design Rankings (WDR) announces the updated ranking of the countries that have won the most design awards in international competitions.
The WDR aims to contribute to the promotion and distribution of design by taking a snapshot of the state of the art and design potential of countries around the world.
The ultimate goal is to highlight their design strengths, weaknesses and available opportunities. 
Here is the Top 20.
The 2019/2020 ranking: let's discover it together
The ranking places China in first position with 67 Platinum Design Awards. 
The United States and Japan are on the podium, while Italy is in 4th place with 25 Platinum Design Awards. 
Great Britain, Hong Kong, Turkey, Taiwan, Germany and Australia complete the top 10. 
The top 10 have not changed significantly compared to last year, with the exception of China, which took first place over the United States.
The new countries included in the 2019/2020 ranking are Macedonia, the Maldives, Laos, Swaziland, Kenya and Armenia. 
World Design Rankings: how it works
The world design rankings are determined by calculating the score obtained by all countries based on the number of designers who have been awarded an "A' Design Award". 
The awards are divided into Platinum, Gold, Silver, Bronze and Iron and the total score is calculated according to this table:
Three additional tables are also listed for each country:
strengths;
weaknesses;
opportunities.
The "Design Strengths" table shows the design fields in which a country is highly competitive and successful, such as Fashion Design, Furniture Design or Graphic Design. 
The "Design Weaknesses" table shows the design fields in which a country is below average compared to others. 
The "Design Opportunities" table explores design categories that could be further enhanced by a particular country. 
Using these features, design experts and design enthusiasts can discover and understand the importance of different design sectors for each country. 
World Design Rankings: best designers by category
The "Design Classifications" highlight the success of individual designers from each country in creative fields and design categories, including architecture, interior design, furniture design, fashion design, graphic design and engineering. 
Thanks to the "Design Classifications" platform, design enthusiasts can obtain answers to questions like "Which is the best advertising design agency in the world?", "Who is the world's leading architect?", or "Who is the best graphic designer in Italy?". 
The Designer Rankings website provides an overall score and ranking of all designers based on the number of design awards won globally.
World Design Rankings: Italian designers
250 Italian designers are listed on the World Design Rankings and contribute to Italy's 4th place in the global ranking.
Here is the Top 10: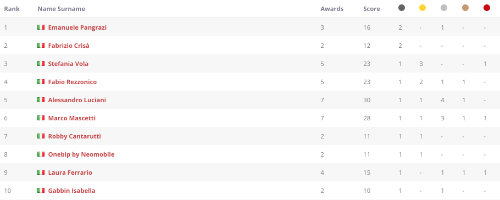 In first place, we find Emanuele Pangrazi with 3 prizes: two Platinum Design Awards and a Silver Design Award.
There is still time to apply for the A' Design Award & Competition by registering at this link and uploading your drawings and projects before 28th February 2020.