Interior blinds are often one of the last elements we think about when designing our homes. However, while it's ok to add them as a final touch to enhance a room, you should not underestimate their importance at the beginning of a project, as choosing the wrong type of blind could compromise your overall vision.When used in the right context, interior blinds can resolve issues, enrich your spaces and create innovative solutions.Choosing the right blind will offer you many advantages:
guaranteed privacy
the ability to control sunlight
hide unpleasant outside views
improve the appearance of a room
On top of all these, blinds can also offer you increased energy savings and the ability to create partitions.Buying the right blind could make a difference between ending up with an anonymous and inefficient home versus one which is welcoming and functional. Let's find out the 3 best interior blinds for 2021 and how to use them.
Roll-up Blinds
Roll-up blinds are the perfect combination of elegance, design and efficiency. They were designed originally for offices but, in recent years, they have also become perfect for homes and are particularly suitable for modern, hi-tech and minimalist styles.They can be installed on walls, roofs or directly on window frames and can be controlled with both manual and electronic control systems.It won't be difficult to find the most suitable fabric and the colour for your home as there are plenty of choices available on the market.Sunbell roll-up blinds feature an extruded aluminium alloy winding system that guarantees their durability. They are available in different sizes depending on your needs:
32 mm;
43 mm, also available in wider 48 mm models for large blinds;
56 mm;
80 mm.
The different types of weaves will guarantee you any level of privacy and luminosity you may require and, on top of that, the variety of colours available will be suitable for any space.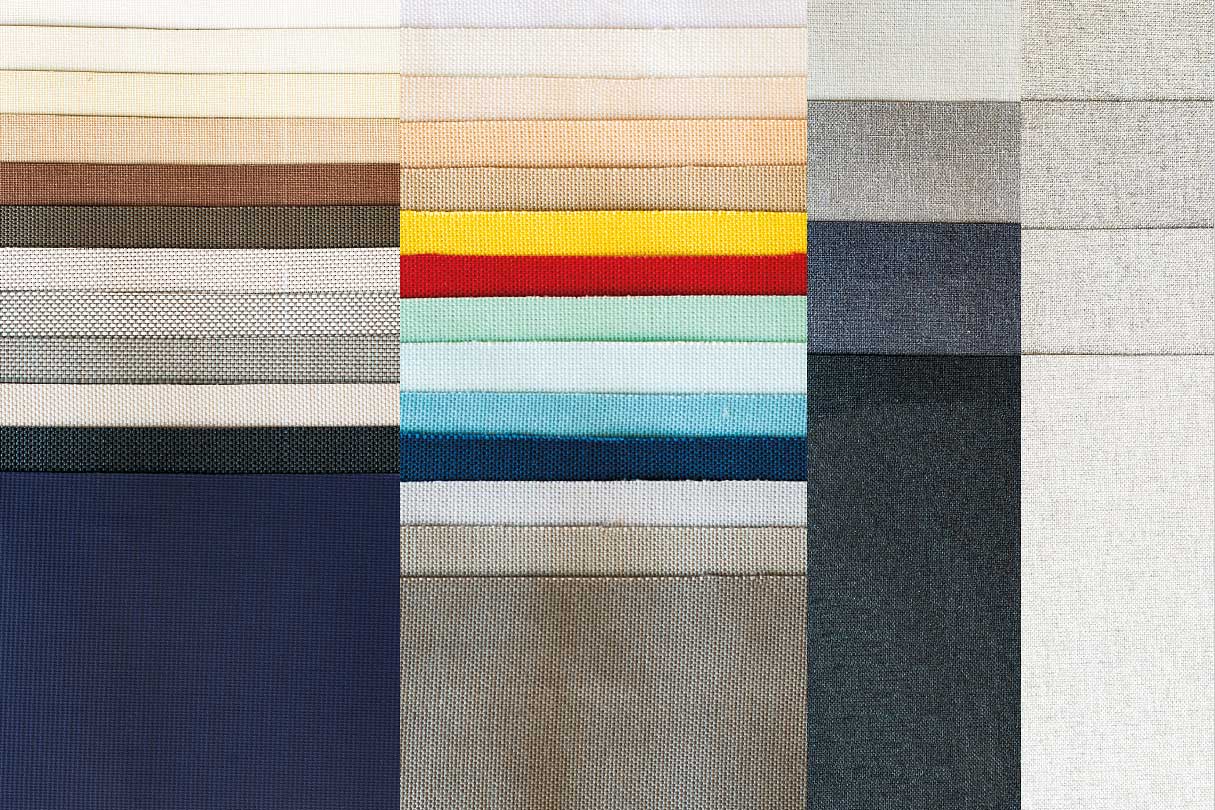 Screen: double weave used to create different effects to filter light.
Blackout: they will protect you from sunlight and heat thanks to their thermal insulation feature. Perfect for the bedroom.
Sound-absorbing: capable of reducing reverberation. Ideal for creating an environment with a comfortable and cosy atmosphere.
Trevira: made with natural cotton, they are ideal to furnish a house with modern style but with a touch of warmth and softness.
Reflecting: made by combining a metal surface on one side and fabric on the other, reflecting fabric can prevent heat from entering the room and help keep your home cooler.
As you may have guessed, the versatility offered by roll-up blinds is their biggest advantage, which makes them one of the most popular interior blinds for 2021.
Wooden Venetian blinds
If you want to follow the latest interior design trends, wooden Venetian blinds used with industrial styles provide a perfect match between vintage and contemporary.As the slats can be oriented in different positions, they improve your ability to manage sunlight according to your needs.Sunbell wooden Venetian blinds have an exclusive design, with an innovative colour palette and a large selection of natural or matt painted woods.These are high-end Venetian blinds, both aesthetically and mechanically. They feature a top box made of extruded aluminium and are available in two different 25 mm and 50 mm models, with or without matching ladder cord included.The 25 mm version requires very little space, allowing you to make any room more welcoming without completely changing its aesthetics.The excellent shielding system and light regulation offered by wooden Venetian blinds place them amongst the best interior blinds for 2021.
Panel Blinds
Panel blinds are a versatile option for any space, and they can also be very useful because, as you move them, they will create dividers to manage lighting and exterior views depending on your needs. Panel blinds move horizontally along one or more rails that can be mounted on ceilings or walls.When the blind panels are folded, they offer a refined linear appearance. They are available in different dimensions depending on the surface you need to cover and come in many soft fabrics and colours, offering tons of options when choosing the right model to go with a particular style of furniture.Panel blinds have the advantage of being very easy to clean and wash because you can hang them straight and they don't need ironing.Another advantage is the possibility they offer to create different colour and decorative modulations thanks to the many panels available.
Conclusion
These are the three best interior blinds for 2021, to take into consideration depending on your furniture, your needs and, obviously, your taste.We suggest you read the many articles available on our blog, where you can find more suggestions about the best blinds to choose and view the full range of Sunbell products.