Japandi is a new and growing trend in interior design, a mixture of Japanese and Scandinavian styles.
When it comes to interior design, the ability to mix two very different and opposing styles offers you the opportunity to showcase your character and personality.
In fact, a hybrid style like Japandi can offer a beautiful combination of Japanese elegance and Scandinavian modernism.
The meeting point between these two styles is undoubtedly their simplicity, together with a certain aesthetic minimalism where clean, organised and minimalist spaces are also highly functional.
Let's look at how to design a space with Japandi style as well as the most important considerations to keep in mind.
1. Japandi style: colours
The colour palettes of the two styles are very different as Japanese is based around different earthy tones, whereas Scandinavian mainly uses white.
Japandi perfectly combines these colours and contrasts luminous and natural tones to create interesting environments that are also very relaxing from an aesthetic point of view.
To create a space in a Japandi style, you can add dark tones to an essentially white environment – like dark brown or charcoal, for example.
Alternatively, you could add bright accessories, reminiscent of Scandinavian style, to a darker space like sage green or grey.
You can accessorise with cushions, carpets or frames, but the approach should always be light-handed as the aim is to maintain a minimalistic look. 
2. The role of natural elements
The use of natural elements is one of the essential characteristics of Japandi and a key common element between Scandinavian and Japanese style.
The green tones of a simple plant can create an atmosphere of well-being and tranquillity.
However, when adopting Japandi it is more important to think about a plant's quality than how many to use.
That's why it is usually preferable to pick a few but very interesting plants with elegant leaves.
3. Functional furniture
Japandi furniture features clean and simple lines and it's also extremely functional in its design.
To create the perfect mix between Scandinavian and Japanese styles, it will be key to mix white furniture, with soft lines and tones, with darker, more elegant pieces suitable for a Japanese interior.
This might sound like a challenging task, but it's a combination that creates a beautiful balance between rigour and softness, which is quintessential for Japandi
Japanese interiors are based on traditional culture, characterised by low furniture that will allow you to stay as close as possible to the ground.
You could try using a low bench or coffee table while always leaving lots of uncluttered space.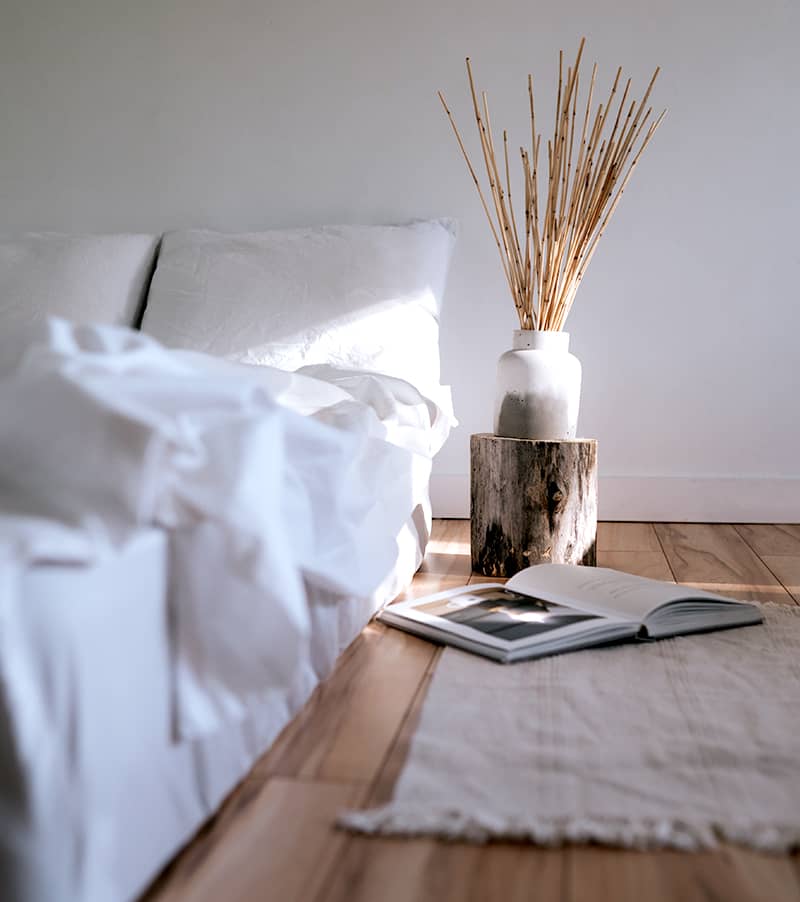 4. Furniture accessories and materials
Like furniture, accessories need to focus on functionality and quality more than quantity.
The Scandinavian style concentrates on a few key elements that are welcoming and add comfort to living, like carpets and soft cushions, for example, while the Japanese is more focused on the authenticity of those pieces.
To find the perfect mix between these two visions, you will need to choose furniture with simple and functional accessories.
You could use wooden Venetian blinds, for example. From an aesthetic perspective, they are simple but beautiful, and they can also guarantee privacy and energy savings.
Materials need to be natural and ideally hand-made, especially because in Japan there is a strong influence from the wabi-sabi philosophy, which celebrates beauty within imperfection.
Craftsmanship is one of the most important expressions of this school of thought as objects don't come from standardised production lines, and each one of them features specific and individual imperfections.
Items should be made with simple but good quality materials like linen, cork, clay and jute.
These accessories should help create a comfortable and welcoming atmosphere in any room.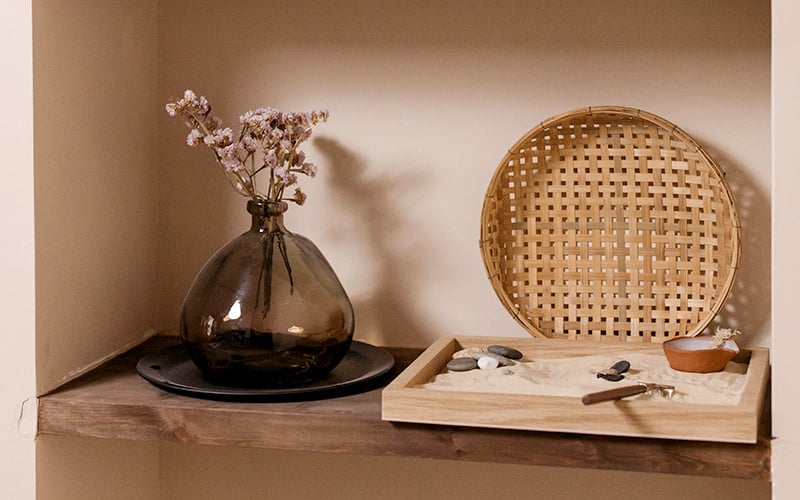 5. Remove what's not needed
Japandi is the fusion between two different styles of interior design, both focusing on a minimalist approach, created by eliminating anything superfluous in favour of what's essential.
This mix gives life to airy, tidy, bright and clean spaces that feature everything you might need condensed in a few elements.
This design style goes hand in hand with another growing trend, 'decluttering', and it will make your home more functional, organised and welcoming.