Venetian blinds are a specific type of blinds made of a series of rigid, horizontal slats produced of different materials and widths. Vertical ropes hold slats in place, and these slats can be lifted, lowered and orientated with a mechanism that can be both manual and automatic.
Unlike what the name suggests, Venetian blinds have not been invented in the famous Italian city, but they come from the Far East, in particular from Japan.
It is possible to find on the market a variety of models that differ from each other for the width of the slats which can vary from 15mm to 50 mm. Outdoor blinds are usually of bigger dimensions while the one designed for interiors are generally of smaller dimensions.
Materials can also vary a lot (aluminium, wood, fabrics) as well as the color available.
On top of the differences just mentioned, different models of Venetian blinds can be placed both inside or outside the double glazing.
Let's take a look at this distinction more in detail.
Venetian blinds external to the double glazing 
Venetian blinds external to the double glazing are the most classic models available on the market. As well as being installed on conventional window frames, they can also be hanged from the ceiling of a room to act as a partition wall and to guarantee privacy in large spaces such as offices.
These products distinguish themselves for their extreme practicality and functionality. They are easy to install and use and allow you to regulate the luminosity of each space exactly as you want it.
The more refined models are designed with frames of extruded aluminium which take much less space and offer a pleasing, linear and elegant design.
With regard to control systems, the choice is between manual and motorized systems. The most recent manual model groups all the different blind's commands in a single chain which allows the lifting,  stop and orientation of the blind.
Motorized control systems are available on some models if you want to enjoy their comfort and easiness of use.
Double glazing Venetian blinds 
The most technologically advanced models are designed to fit the Venetian blind inside the double glazing of a window, which is essentially the empty cavity between the two layers of glass.
The cavity inside of the double glazing is sealed and guarantees complete protection from dirt and dust, so that your blind won't need any maintenance at all. This is undoubtedly the most significant advantage of double glazing Venetian blinds, which are becoming more and more popular these days.
Different type of blinds can be fitted inside the double glazing:
Venetian blinds;
plissé;
duet.
They can also offer more filtering or darkening effect depending on the level of solar shielding required.
With regards to their control system, venetian blinds inside the double glazing can be managed manually or with automated control systems for more comfort and easiness of use.
There is two types of manual control systems:
with a rope and external control system applied to the glass. When moving, the cord, which is designed as a ring, makes the external magnet rotate. This magnet is connected to another one inside the double glazing facilitating the lifting and lowering of the Venetian blind;
a knob placed on the window that, thanks to its rotation, can regulate the opening and closing of the slats. This extremely safe solution is ideal for public spaces like schools, hospitals, offices where is it's important to be able to control the amount of light coming in.
With regards to automated systems, it is possible to control the slats' movements automatically for easier and more comfortable use.
The different motorized systems can be:
battery-powered;
powered by a control unit.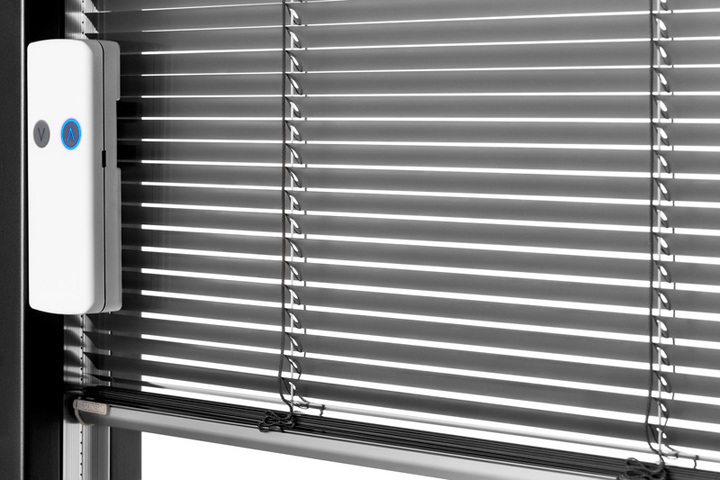 In a system with reachable batteries and control system external to the double glazing, lifting and orientation of the blind occurs thanks to an actuator, that uses the magnetic transmission to regulate the movements of the blind.
The other system, designed with a control unit placed outside the glass is an innovation that guarantees reliability and durability over time.
This option presents many advantages as it doesn't need any dedicated power supply and can be fitted to glasses of any width. These features make it ideal for refurbishing projects.
To recharge the battery, while also keeping an eye on energy saving and wellbeing of our environment, it's possible to install photovoltaic panels internal or external to glass.
In situations where it's necessary to control one or more windows at the same time, or even just one blind from different positions – a remote control system can be added to the control unit.
Featuring cutting edge technology in both control systems, double glazing Venetian blinds guarantee durability over time as well as offering a great, simple, design solution.
Venetian blinds: why chose them?
As we have seen, Venetian blinds offer many advantages, especially in terms of functionality and practicality.
They are great shielding systems that allow you to regulate with precision the light needed in a space thought the orientation of the slats as well as the choice of materials used to make them. These characteristics allow these systems to offer great comfort to your rooms.
Another advantage of Venetian blinds is the substantial energy savings that they provide. This solar shielding system can, in fact, provide a 10% reduction to your usual energy consumption.
When talking about interior design, Venetian blinds show great versatility. It's easy to imagine how they can be suitable for any atmospheres – from classic decors to contemporary and minimal designs.
Thanks to their linear design they can be installed in every room of the house like bathrooms, living rooms and bedrooms but they can also be very effective in offices, restaurants and hotels. Moreover, compared to other much heavier solutions like curtains, Venetian blinds take up very little space!
With regards to durability overtime and reliability, maintenance of Venetian blinds is by far the easiest compared to other window treatment solutions. For standard Venetian blinds, the cleaning process is very simple: you just need to use a humid cloth to eliminate quickly and easily dust and dirt.
Venetian blinds internal to the double glazing don't need any maintenance at all the blind is placed in completely insulated space and protected from the action of any external agents
If you need a free consultation about the installation of Venetian blinds internal or external to the double glazing, don't hesitate to reach out to the Sunbell team.